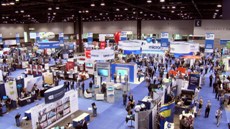 Preparing for your first trade show can be intimidating, but if everything goes right trade shows can be highly beneficial for company growth. On the other hand, if you're poorly prepared and show up with nothing special to offer, you might wind up going home disappointed by the fact that the neighboring booths stole the show while you sat there and watched everybody pass by. There are certain things that people just expect to see when they visit a professional booth, and if your stand is lacking any of those components, it's going to be difficult to compete. With that said, here are five things every small business should bring to a trade show:
Attractive Displays and Signage
Nothing catches the eye better than a massive flat screen or a projector that takes up an entire wall. The more displays and signage you have, the better; you can't really overdo this aspect. Pop up trade show displays are highly effective at capturing the attention of passersby and are therefore essential pieces of equipment to bring along if you're looking to stand out from the crowd. Some great examples of professional displays can be found at H3 Graphics.
Refined Marketing and Branding Materials
Be sure to take a strong selection of marketing materials like pamphlets, brochures, flyers, business cards, pre-loaded flash drives, coffee mugs, t-shirts, bumper stickers, key chains, and anything you can possibly think of that will help spread brand awareness. The desired outcome is to have plenty of stuff to give away, with each item serving as a reminder of your brand's name, logo, and slogan.